VACUUM CASTING
Vacuum casting is the process by that prototype models and production parts can be made through the use of a silicone moulding which is made from a pattern. Actually it is a way of copying a 3D shape rapidly and accurately. Once a silicone moulding has been built. It is filled in a vacuum condition with a choice of a polyurethane resin that will harden and replicate the characteristics of a whole host of industrial material properties.
HOW TO CREATE SILICONE MOULDING?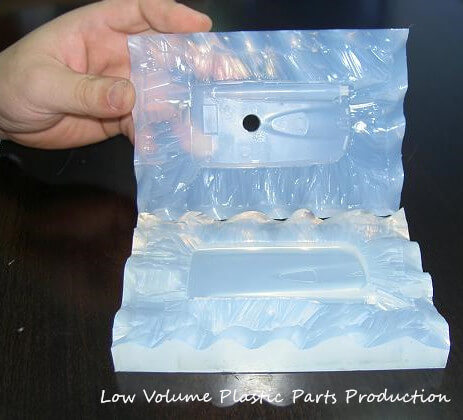 Make a pattern by 3D printing or CNC machining, the finished needs to be polished.
Put the pattern into a box, and then, pour the liquid silicone material into the box.
Put the box which contains the liquid silicone into a oven. Heat it around 3-4 hours until it to be solid. The silicone moulding is formed.
Take the box out from oven. Cut off the mould to be half. Take the pattern out from the mould. Put the mould into a vacuum machine to start taking out the air and pouring into the part material.
As well as being a highly effective method for Low volume plastic parts production, Vacuum Casting can be also delivered parts with varying degrees of flexibility or rigidity, in a wide range of choosing colours and materials, included clear parts and rubber parts. Used in conjunction with other prototyping technologies, vacuum casting obviates the requirement for expensive purpose made production tooling to help clients to save production time and costs.
We offer vacuum mould casting that can be used as your mass production products. Colour can be added to any material you want, and we can match to a RAL and Pantone number reference, or to a provided sample. Transparent and water clear parts are also possible with a high degree of optical clarity. Materials can simulate a vast selection of industrial materials. ABS, PC, POM, Nylon, glass filled nylon, heat resistant and flexible elastomer rubber from shore 45– 90A can all be achieved extremely accurately.
Through by Rapid prototyping technology, we can meet clients all kinds of requirements for Low volume plastic parts production:
(1) Aluminum Tooling: Aluminum mold is a type of conventional tooling, the tooling life is around. It's typically able to produce well over 10,000 parts. Without the same heating and cooling lines that take a lot of time and money with traditional injection molds. This does slightly increase our cycle times compared to traditional molds, however, in most case. It's only used for produced simple structure product. The part material is the same as the final product. Any plastics material can be choose as the same as steel mould's.
(2) 3D printing: 3D printing is one of the most common methods for producing low volume plastic components. 3D printing technology has advanced so far as to be considered a genuine rapid prototyping technique. It will depend on the weight and size of part for the quantities.
(3) CNC machining: Most engineering materials are easily machined through by standard CNC machining techniques. Part geometry is not just limited to prismatic shapes but can easily include 3D complex geometry. Today, CNC machining is the best choice for producing low volume plastic part, such as: POM, PA+GF, HDPE, Nylon etc which can not be made by 3D printing.
(4) Vacuum casting: Usually a silicone moulding can cast 15-20 Plastic prototype parts, so the most suitable quantities is around 100 Pieces with the best costs.