Significant advances in additive manufacturing technologies in the last decade have transformed the different ways in which products are designed, developed, manufactured and distributed, going even beyond the classic rapid prototyping of 3D printing. Many industries are still unaware of the advantages that additive manufacturing can provide to their industry.
For the automotive industry, 3D printing has opened the doors to the creation of new designs, making products safer, cleaner and lighter and other 3d Plastic Prototype Parts, with shorter delivery times and lower costs. There are two main ways in which additive manufacturing can be a crucial aspect in the competition between Auto manufacturers and potentially be a distinctive element:
Product innovation:
Additive manufacturing can produce rapid plastic prototypes with fewer design constraints that often limit more traditional manufacturing processes. This flexibility is extremely useful allowing the manufacture of products with personalized characteristics, so it is possible to add improved functionalities such as integrated electrical wiring (through hollow structures), less weight (through lattice structures), and complex geometries that they are not possible through traditional processes.
Transformation of the supply chain:
By eliminating the need for new tooling and the ability to directly produce final pieces, additive manufacturing reduces total production time, which improves the market's response capacity. In addition, since 3D printing generally uses only the material that is necessary to produce a component, it can drastically reduce waste and reduce the use of raw materials. In addition, printing lighter components can reduce handling costs, while production on demand and geographically close to it can reduce inventory costs. Finally, Plastic Prototype manufacturing can support decentralized production from low to medium volume.
Applications of 3D Printing In The Automotive Industry
---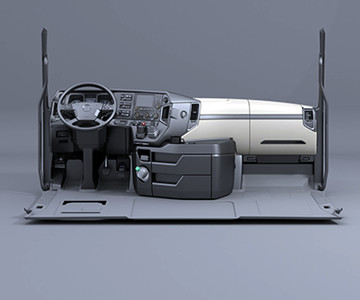 Some of the applications of additive manufacturing in the automotive sector:
Fluid management: Pumps and valves printed on aluminum alloys with SLS technology (Selective Laser Sintering) and EBM (Electron Beam Melting).
Manufacturing process: Rapid prototyping, personalization of tooling and tools printed on polymers, wax or special steels. The technologies used for this type of applications are FDM (Fused Deposition Modeling), Inkjet (Binder Jetting), SLS (Selective Laser Sintering) and SLM (Selective Laser Melting).
Exhaust / emissions: Cooling grilles printed on aluminum alloys with SLM technology (Selective Laser Melting).
Exterior / interior moldings: Bumpers and windbreakers printed on polymer materials with SLS technology (Selective Laser Sintering).
Although traditional manufacturing techniques are deeply rooted in the sector and will continue to maintain a dominant position in the automotive industry, additive manufacturing is gaining ground little by little. While additive manufacturing will not become the only manufacturing technique in the future, it will nonetheless play an important role in shaping the global automotive landscape. In the meantime, many plastic prototype materials can be chose.
The parts and components of automotive vehicles are submitted by the industry to tests and extreme environments, with the aim of ensuring that they meet the safety and quality requirements demanded by the market and the official regulations and standards. We support the automotive industry to maximize efficiency in the production line and to develop parts and components that traditional machining can not achieve at the cost and time that 3d printing does.
The automotive industry is currently going through a transformative period of change. Clearly the old ways of doing business are no longer a viable alternative for continued success. New designs are needed and new processes are being retooled for efficiency. Economic pressures are driving the need for significant change and innovation.
New product development and innovation is much more difficult and time-consuming than most other business activities. Automotive rapid prototyping greatly enhances learning speed and reduces the risk of new automotive parts development.
Historically, the automotive industry has been using rapid prototyping as an important tool in the automotive parts design process. The extremely fast-paced automotive design cycles require an extremely fast prototyping system which can produce car parts fast and inexpensively.
Automotive Rapid Prototyping Compresses Development Time
The advantages of 3D Prototyping model creation versus viewing a cad/cam model on a computer screen is palpable. Automotive parts engineers get together and discuss the pros and cons of a rapidly produced automotive parts model and discuss the pros and cons of the design, as they pass it around, twisting and viewing the prototype, and decide if that is what they had in mind. This way, problems get solved up front, before going to the assembly line! Once determined that the automotive prototype design is a go, the model can then be sent to a die maker.
Automotive Prototyping and the Die Maker Process
The die maker cannot use a model to make the die, but because they have it in their hand and can look at it and feel it, they can determine where the parting lines will be and exactly how much steel they will need to produce it. The timing of the dying process is greatly compressed.
Examples of Automotive Rapid Prototyping Parts
Car lamp parts
Car engine parts
Auto mechanical parts
Car dashboards
Car handles and knobs
Auto body components
Car trim parts
SEND US AN INQUIRY