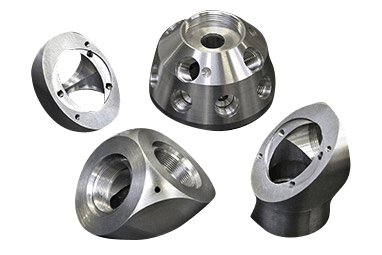 UYEE is China's premier machine shop and with a compliment of cnc turning coupled with 3, 4 and 5 axis milling, CNC machine equipments can offer for a wide variety of jobs from simple CNC prototyping parts through to the most complex. We have been using engineering-grade materials with excellent tensile resolution, strength, finishes and tolerances. The physical models can be machined and turned using both material plastic and metal. Such as: PA, POM, PE, Aluminum, Steel, Brass, titanium etc.
Nothing is too complex and trouble for us. In our factory precision is the number one goal. We work to tolerances as tight as ± 0.01 per 100MM of dimension although tighter tolerances are possible with quite stable, reinforced grade of engineering materials. Precision CNC machined parts can be built to clients custom indicated material. We provide the full range of milling processes, such as: countersinking, counter boring, tapping, drilling, and more. These can manufacture many shapes of parts. Even some big and complex metal parts, if it's impossible for milling, then, We can also take welding to complete the whole job, in the mean time, to make sure the quality and precision, We love this type of job. We love challenge. When the time comes if client need to have milling done, we can help to do it. Taking on both small and large jobs, with fully enabled multi-Axis machining and turning and other assistant equipments to manufacture a wide range of industry components.
It could be difficult to find the right CNC Machining Services supplier to ship on your needs. We understand that ensuring your specifications details are met, We are serious with your drawing and design, within budget and on time are essential to make sure the well running of your daily operations. Absolute CNC specialize in tailored CNC Machining solutions. Our attention in details and vast CNC experience is driven through by mature manufacturing process control. Such as, if we manufacture 100pieces metal parts, when the first one is done, we will check it if it's OK to make sure the whole production process goes well, not waiting for having all parts done, because at that time, if there is an issue, it will be too late. That's the reason why our team always emphasizes to focus on details. Once the prototypes have been completed, we can also offer short-run and volume production.
UYEE is an experienced prototype and new product supplier, building strong and accurate CNC prototype for all industries in metal, plastic and composite engineering materials. We also offer design assistance, you can send the sample, We will help you to input 3D CAD models (STEP, IGES, X-T file), and make some changes according to your design requirements. Our engineering team moves it smoothly and fast. We match your desired end result with the right production technology to save your time and money. Typical lead time: From 3days to 7 days, to meet your requirements. If you are urgent in need, tell us, we may make a adjustment. This is flexible. Our CNC Machines are programmed with the latest software to ensure the rapidly and most efficient use of machine time and setup the most suitable production schedule. Our team is involved in regular training to keep up to date with the latest methods and techniques. This ensures us to serve our clients the best.
Save
Save
Save
Save
Reviews
Service Type
CNC PROTOTYPING
Description
We work to tolerances as tight as ± 0.01 per 100MM of dimension although tighter tolerances are possible with quite stable...